Note: This section is disabled for Touchscreen setups.
In this section you will choose which device LUMOplay uses to track motion. Please make sure that all of your equipment is connected and powered on, with the appropriate device drivers installed on your computer.
Choosing Your Camera
A list of connected cameras will appear on the left side. A live feed of the selected camera will appear on the right side. Click on the camera you want to use and ensure that the live feed is being displayed on the right side. Nothing will show in the live feed if you select Mouse/Touch Input.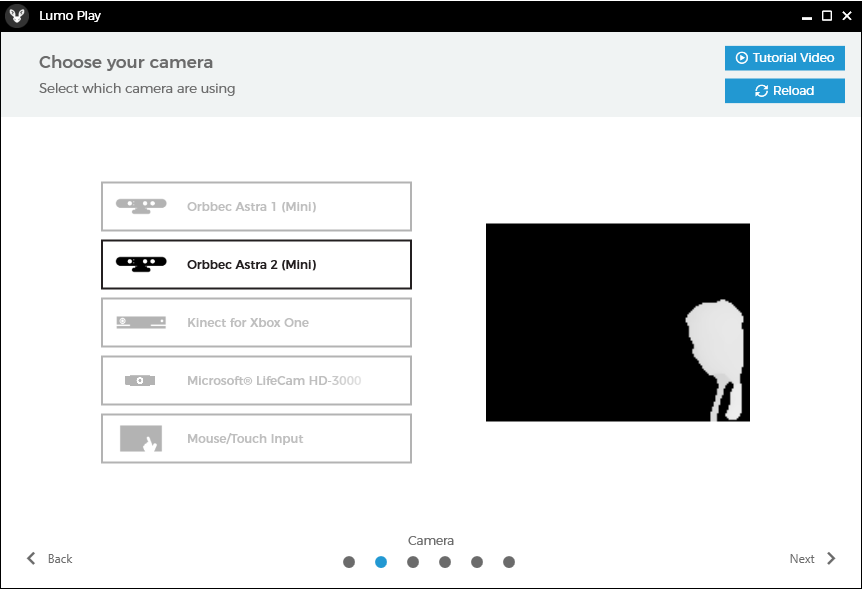 Depending on the setup you are using, certain cameras are not recommended. For installations where the camera is pointed at the projection screen (e.g. Floor, Wall (Close-up), or Wall Ball) you should not use a USB webcam; use a 3D camera like the Intel RealSense D435, Orbbec Astra, or the Microsoft Kinect for Xbox One instead.
Camera Not Appearing
If your camera is not appearing in the list, you can unplug it from your device, plug it back in, and click the Reload button in the top right corner.
Camera Still Not Appearing