Follow these best practices to ensure your LUMOplay installation works correctly.
Commercial Installers: If you manage installations on behalf of a customer, consider incorporating a maintenance contract as part of your service fee.
Update LUMOplay once a month
We release software updates approximately once per month to keep up with feature requests, driver updates, and bug reports. If your computer has an internet connection, an update notification will appear in the upper-right corner of the window, as shown below.
We recommend installing updates as soon as possible, and keeping your software up to date.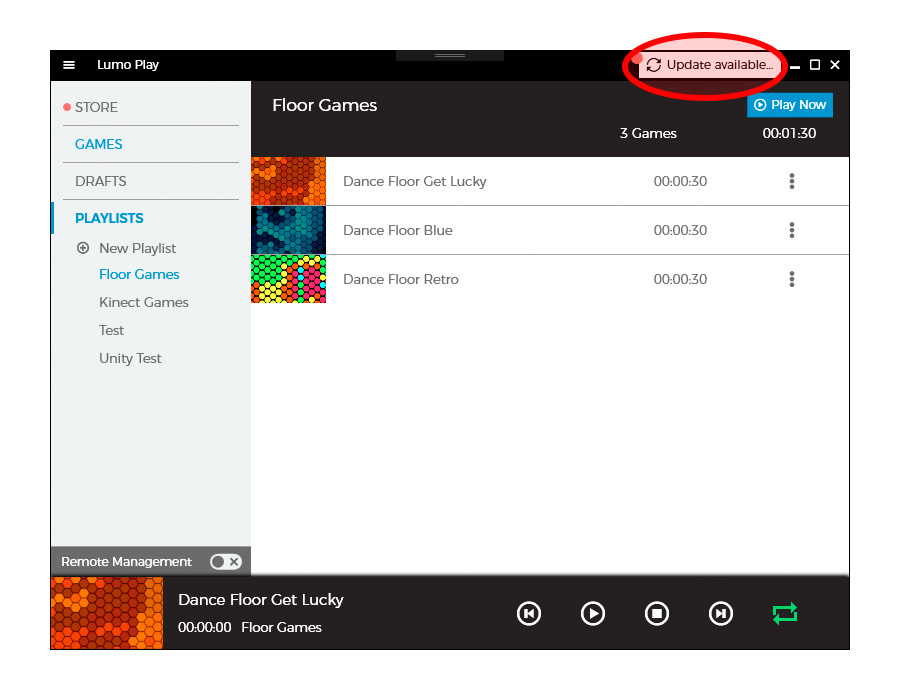 If your LUMOplay installation runs offline, check our help site for new releases. You can always download the latest version of LUMOplay from your account page on LUMOplay.com, copy the installer onto a USB drive, and install the update that way. Alternatively you can connect your offline installation to the internet once per month to check for updates.
Update your system software regularly
Make sure to install Windows updates, as well as updates for device drivers such as graphics cards. These updates patch security issues, optimize your computer's speed and power usage, and perform all sorts of other important functions.
Reboot your computer regularly.
LUMOplay should not run continuously for long periods of time. We recommend rebooting the computer LUMOplay runs on at least once every 24 hours.
Commercial Installations: You can set up Windows to automatically reboot at specific times, and configure LUMO Playground and LUMO Playmaker licenses to automatically start with Windows.
Install your hardware correctly
Follow the manufacturer's guidelines for mounting cameras and projectors. Make sure any equipment mounted overhead is securely attached using the correct brackets and fasteners. Computers and projectors need adequate power and ventilation to prevent damage.
Maintain and clean your hardware regularly
Cooling vents in projectors and computers can get clogged with dust over time; take the time to clean them every few months (or more if your setup is in an especially dust-prone environment). You will find instructions for cleaning your model of projector in the manufacturer's user manual.
Some projectors use bulbs that can burn out; make sure to have spares handy and replace them as necessary.
Certain kinds of camera and projector mounts can sag or shift over time; take the time to inspect them and make adjustments if needed.
Let us know if you have problems
We want to know if you are having issues with your installation so we can help! You can report a bug directly from LUMOplay, or reach us through our online form.