Please note that the Azure Kinect is not available to the general public yet. You can order the Developer Kit from Microsoft. Support for this camera is currently in beta.
The Azure Kinect requires a USB3 port on your computer for data as well as an AC outlet for power. We recommend using the cables and power adapter included in the developer kit to connect it to your computer.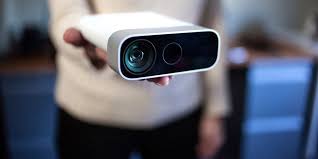 The Azure Kinect
The Azure Kinect works well in lighting from complete darkness to normal indoor office lighting. We do not recommend using it in direct sunlight.
Download the LUMOplay Installation Guide to learn more about camera placement for different installation types.
When you first connect the Azure Kinect to your PC Windows will automatically download and install the required drivers.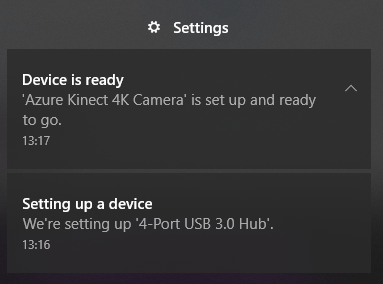 Windows will automatically download the drivers and let you know when your device is ready to go
Note: The Azure Kinect has additional requirements, which can be viewed here.
Please check the compatibility of this camera with your PC.
Some of these requirements are different than the minimum requirements for Lumo Play.
If you plan to use the Azure Kinect, make sure your computer satisfies both sets of requirements.