LUMOplay requires a camera or touchscreen to track motion.
The Intel™RealSense® D400 series cameras work well in darkness, low light, and in most other lighting conditions except direct sunlight.
While these cameras are not recommended for systems using laser projectors or video walls over 4000 lumens where the camera is facing the projected image, the RealSense D435f will work as it has a built-in bandpass filter.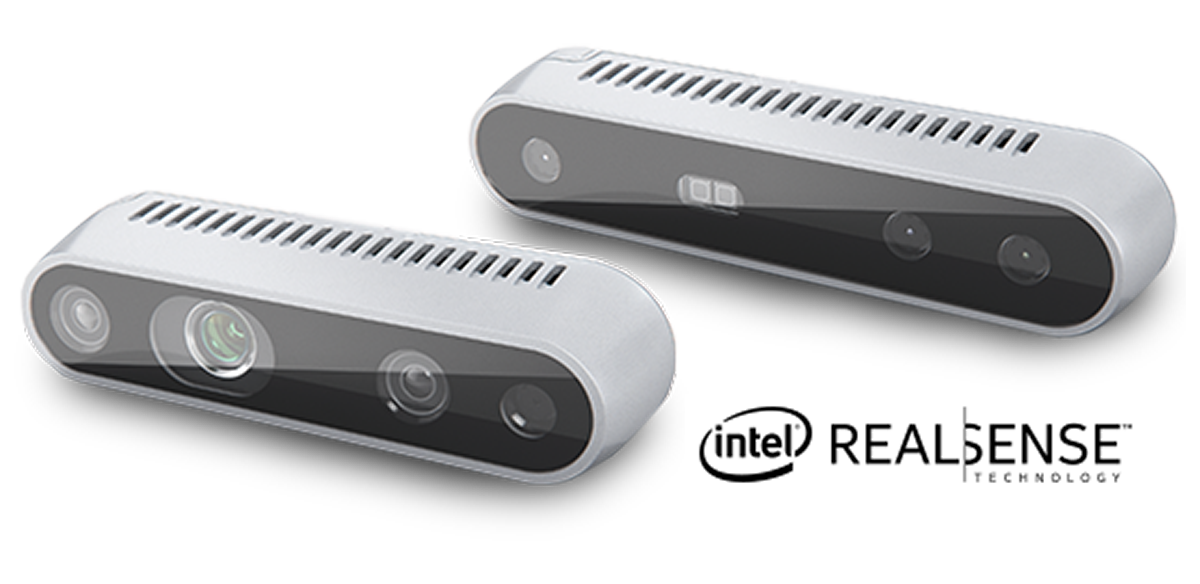 The

Intel™RealSense®

D415 and D435 cameras
Placement Recommendations - Camera facing the floor or wall
For the most accurate tracking, we recommend mounting the camera between 3m (10') and 3.5m (12') from the wall or floor.
Placement Recommendations - Camera facing the players
The Intel™ RealSense® cameras have a wide field of view, and work well for systems where the camera must face the players, or interior interactive window installations.
Requires Windows 10 and Lumo Play 4.0.7 or later
Intel™ RealSense® D400 cameras use a USBc - USB3 cable. It is possible to extend the distance from the camera to the computer using a powered extension, available here: https://www.newnex.com/realsense-3d-camera-connectivity.php
Physical Specifications
The

Intel™ RealSense® D415 and D435 include a

1/4"-20 threaded mount hole on the bottom, and two metric M3 threaded mounts holes on the back
both cameras require a USB3 port on your computer
the D415 lists an effective range of 16cm to 10m*
the D435 lists an effective range of 11cm to 10m*
*In LUMOplay installations, accurate tracking for most installations is limited to a maximum 14' or 4.3m.