An interactive floor that you can take places!
Whether you're a DJ, an event planner, or a childcare professional, chances are you've encountered interactive floors and wondered how you can create something similar that's easy to pack, transport, and set up on your own.
Portable interactive floor display systems can be purchased from a variety of companies, and they're great for advertising, healthcare, education, occupational therapy, sensory rooms, events, and all kinds of other applications.

Before you get started, we want to make sure you understand all your options. Below is a brief overview of the pros and cons of turnkey solutions, as well as a step by step guide if you prefer to build your own system.
Purchasing a turnkey solution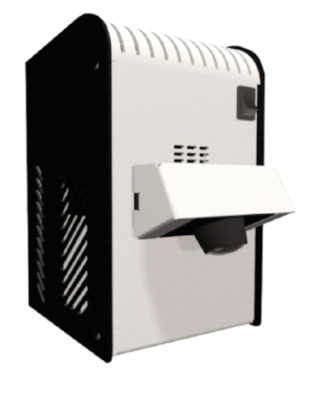 Source: The Sensory Store
Turnkey solutions can be expensive, ranging in price from $10,000 - $15,000 USD. Some of the more popular companies offering turnkey systems include:
• Vertigo Systems
• Eyeclick's BEAM
• Experia Multi Sensory / The Sensory Store
Pros:
If you're a technophobe, or you need a system that will be operated by a large number of people, a turnkey system may be the best option for you. Generally, these systems are designed to be fairly robust and plug-and-play, with a minimal learning curve.
Games and effects are either sold as a package aimed at a specific vertical (education/advertising etc...) or custom created. Some of these companies offer an SDK, so if you have a developer team, you may be able to program your own games and effects.
Cons:
Because these solutions include proprietary hardware, they can be expensive to ship and difficult to have serviced.
There are also some serious limitations on the accuracy of the tracking, because generally the camera is mounted at an extreme angle in order to keep them in the same box as the projector and the computer. Because of this, the camera that tracks the motion isn't as accurate as a top-down sensor would be. (Experia has a camera that extends from the box, which improves the tracking quite a bit, but because it only extends a small distance, the size of the interactive area is limited.)
Beware monthly fees - because these companies take on the risk of maintaining the hardware as well as the software for these units, they may charge pretty hefty monthly fees to continue operation, or have leasing agreements for the complete units.
Coding your own solution
For the purposes of this guide, we'll be using LUMOplay software, (since that's the platform we know best), but TouchMagix offers a software-only solution as well (although the annual fee is significantly more expensive, and they haven't released a new game in over a year).
If you're particularly handy with code, there are a lot of really cool projects available on Github and the OpenCV library. (Here's a cool project called Eminentia that's worth checking out.) You can also design your own experience using Touch Designer.
How much will it cost to make a LUMOplay portable system?
The good news is that the cost of building your own portable interactive floor setup is a fraction of the cost of a turnkey solution, as long as you're willing to do the work. You'll need the retail kit (available from SimplyNUC), an ultra short throw projector, and a boom stand to support the camera. The total cost will be around $2500 USD.
Recommended projector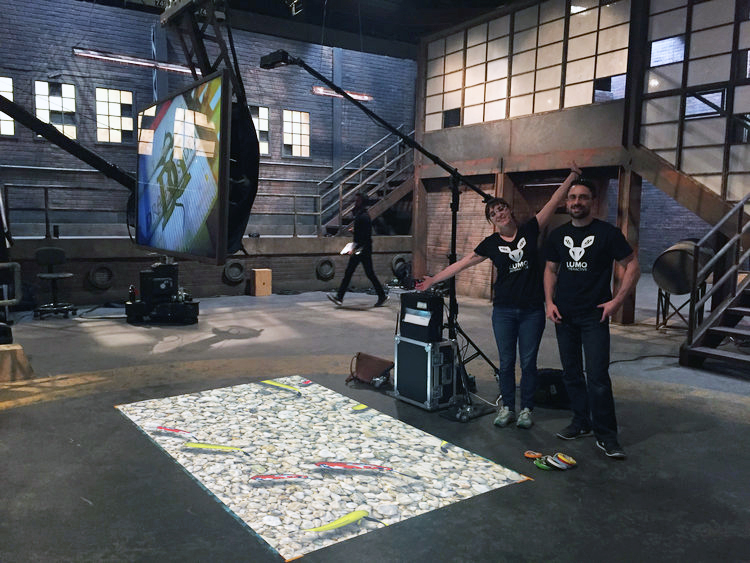 We recommend ultra short throw projectors for portable systems, because they produce a huge image from a short distance (around 9' diagonal when placed 2.5' feet from the floor).
That's what we're using in the image above. You can choose something else, but be aware that all projectors have a different throw ratio and brightness. You should try to find something comparable to this model's specs:
Resolution WXGA (1280 x 800 pixels)
Brightness 3,100 ANSI lumens
Throw Ratio: 0.28
You can use the handy lens calculator at Projector Central to compare different models of projectors.
Recommended computer & camera
Our partners at Simply NUC sell a retail kit that can be used for portable systems. You can learn more about the retail kit (and find a link to purchase it) on this page: https://www.lumoplay.com/hardware/interactive-digital-sign-kit
If you prefer to buy your equipment from another place, or you want to know if a computer or camera that you already own will work, you can find a current list of LUMOplay's equipment requirements here: https://help.lumoplay.com/hc/en-us/sections/360000619133-Equipment-Specifications
Boom Stand
You'll need a boom stand for the camera, so that it can be positioned in the right place, centered above the projection area. Luckily, these aren't too expensive and they are easy to pack up and move. The cameras we recommend are also quite lightweight, so you don't need anything too robust. If you're setting up a system for a lot of active children, it's also a good idea to invest in some sandbags to weigh the stand down a bit, just to keep things safe.
Carrying cases
Carrying cases are completely optional, but if you will be moving your system from venue to venue, we highly recommend getting good carrying cases.
Optional equipment
Folding table (to put the projector on, unless you can put it on the road case - more on that later)
White foam interlocking floor tiles (in case the floor is dark)
A length of rope, belt or tie strap (to help keep the boom arm from wobbling)
Software
LUMOplay has a free-forever license that is great for testing and evaluating the software. Full subscriptions, which include access to over 200 apps and games, start at $19/month. We're also extremely responsive to our community's requests, and we aim to make 5-10 new games a month based on community requests.
Windows 10
How to build a portable system
You should review the installation guides for the retail kit or for DIY systems: https://help.lumoplay.com/hc/en-us/articles/360002854713-LUMOplay-Installation-Guides
This will give you a good understanding of all the different ways LUMOplay can be set up (it's not just for floors). That way, you can design your system based on how you plan to use it.
To set up a portable interactive floor:
Set up your projector so it's standing sideways (with the mirror pointing at the floor). Plug it in, and turn it on
Attach the camera to a boom arm tripod mount, and position it facing down towards the middle of the projection area, about 8' - 10' from the floor (recommended positions are provided in the installation guides).
Connect the computer to the projector using a video cable, and turn the computer on (if it's not already on)
Connect the camera to the computer
Launch LUMOplay and go through the calibration steps in the software manual included with your license
Play a game!
Your setup should look like this: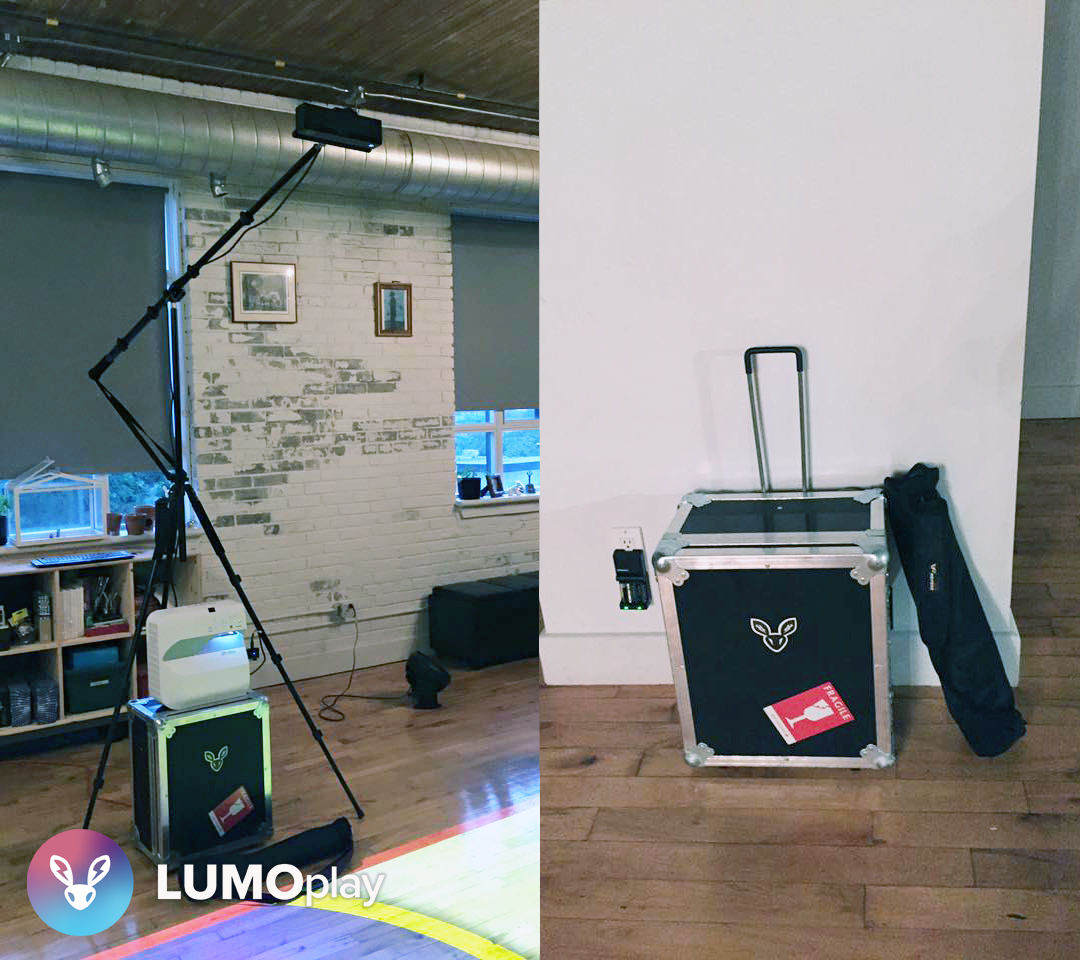 My road case is custom-made, so it fits my equipment exactly and allows for a single cable to come out the back (there's a power bar inside the road case). There are no handles or bumps on top, so I can use the case to support the projector instead of carrying a folding table.
Having the road case custom-built cost around $600 USD, and the company also made a black sleeve for the projector which secures it to the case so it doesn't tip as easily. This was important to me because I fly alone with this system all the time, and needed to eliminate as much extra stuff as possible.
If you meet a LUMOplay team member on the road, this will be the demo unit you see us with. It travels really easily, can be set up in less than 10 minutes by one person, and weighs less than 30 lbs total. The best part is, the games look fantastic! The projector is bright enough to look great in normal ambient light, making this our favourite demo system to take on the road.
User submitted setup examples
Here are some amazing examples of portable setups created by our community members. If you have a portable system, we'd love to see it!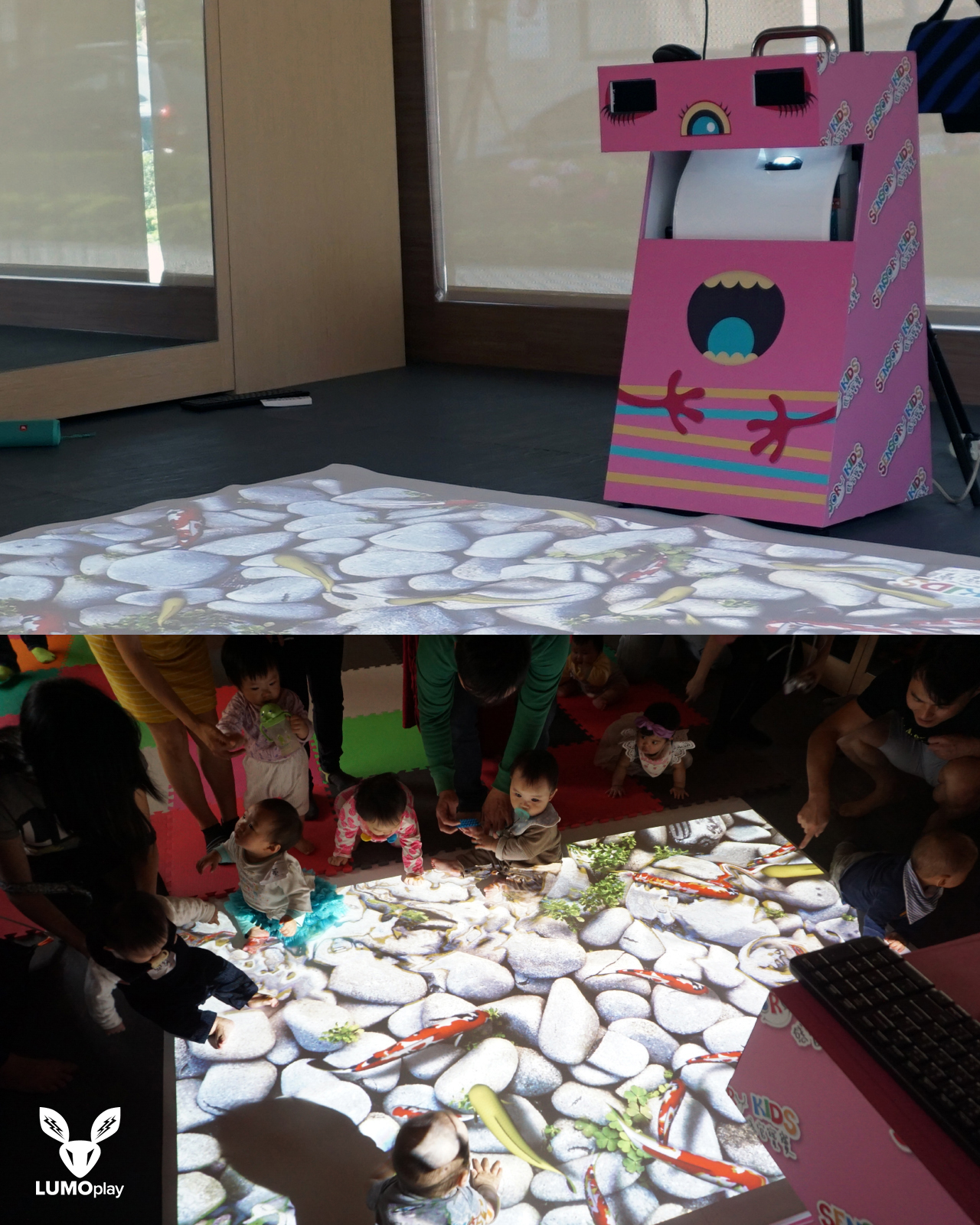 Credit:
早期感官經驗與環境不但會改變腦結構, 而且會影響到基因表達...
Our friend Bruce runs a sensory lab in Taiwan, and this is his custom LUMOplay setup. You can reach him here: https://www.sensorykids.tw
If you have any questions, feel free to leave a comment or reach out on the contact form for more information!