This article is for LUMOplay 4.0 or later. This is an experimental feature.
Sometimes when you're setting up LUMOplay you want to track a really big floor or wall. Maybe you're using wall-to-wall LED floor tiles. Or maybe your ultra-short projector is mounted further away than normal. Or maybe your ceiling is just too low for a single camera to see the whole projection.
LUMOplay has a solution for this problem: Camera Seaming. This system allows you to connect multiple Orbbec Astra or Intel RealSense cameras to your computer and combine their inputs into a single larger image.
This article will teach you how to configure your seamed camera system.
Note that because Camera Seaming is a feature that is currently under active development, we do not recommend its use in commercial installations. Using camera seaming in a commercial setting is done at your own risk. We can only offer limited technical support for installations that use pre-release features.
1- Requirements
Camera seaming in LUMOplay is still an experimental feature and is recommended only for advanced users.
You will need a paid version of LUMOplay to use this feature.
Camera seaming requires a more powerful computer than normal. An Intel i7 (or equivalent) CPU is recommended. Make sure the computer also has good airflow; processing the seamed camera can be taxing on the computer and we want to avoid possible heat damage. Fanless mini desktops are not recommended.
In addition to the computer, you will need at least 2 Orbbec Astra and/or Intel RealSense D400-series cameras connected to your computer. The Microsoft Kinect cameras do not allow more than one device to be connected to a single computer, so they cannot be used with the camera seaming.
Finally, we strongly recommend having a second monitor connected to your computer. Aligning the cameras can be done using the projected output, but it's much easier to do with a second display.
2- Enable Camera Seaming
LUMOplay's camera seaming system is currently in-testing, but can be enabled in the Preferences > Advanced screen: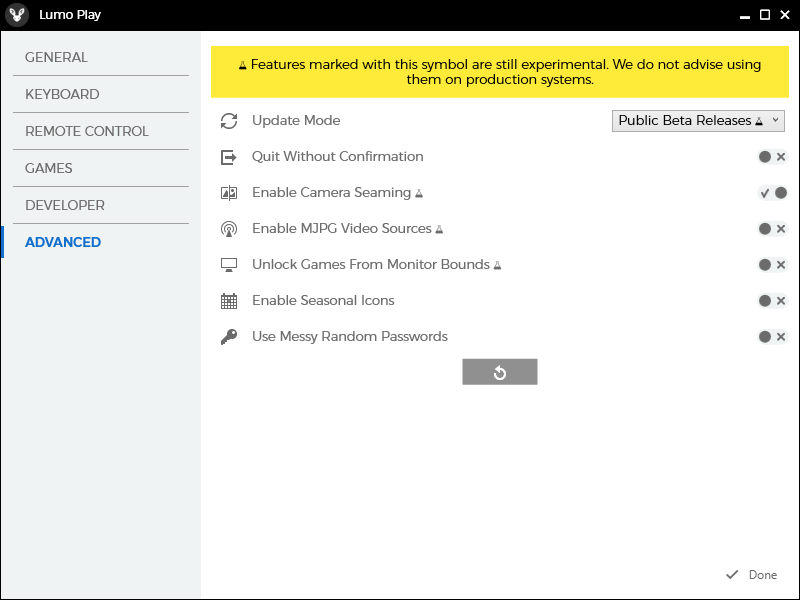 Simply check the "Enable Camera Seaming" option on the advanced preferences screen.
3- Using Your Seamed Camera
Once camera seaming has been enabled, as long as you are using a LUMOplay Pro license and have at least two supported devices connected to your computer, you should see "Seamed Depth Camera" as a new option when choosing your camera in the calibration system.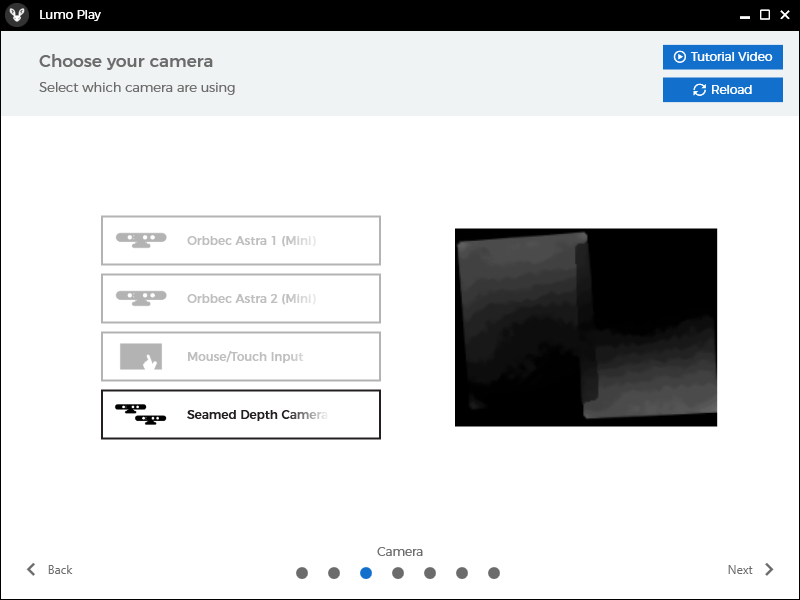 Select "Seamed Depth Camera" and click "Next."
4- Aligning the Cameras
After selecting the Seamed Depth Camera, the next step in the calibration is to align the cameras on a canvas. The first thing you will see is the empty seaming canvas: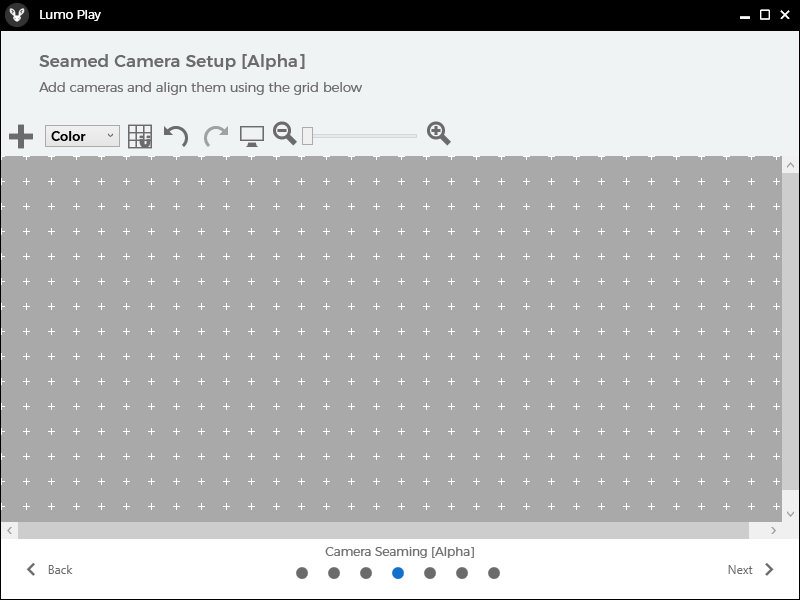 To add your cameras, click on the

button in the upper-left. Select a device from the list and click the

button to add it to the canvas.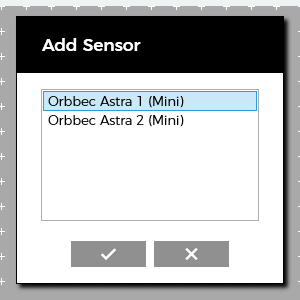 Once all the cameras have been added you should see something like this. Note that some cameras may be stacked on top of each other. This is normal.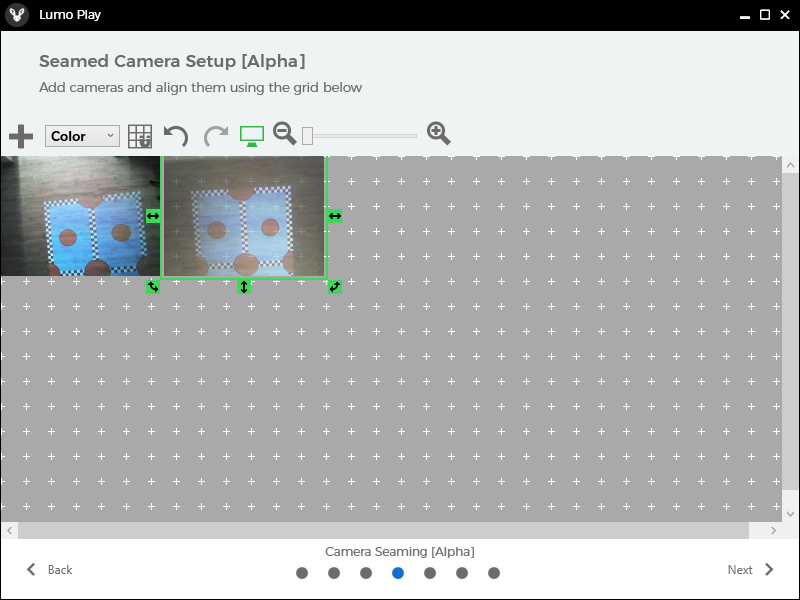 Click on the

button on the toolbar to show the alignment helper image on the projector. This image shows a series of colored shapes and textures to make aligning the cameras easier.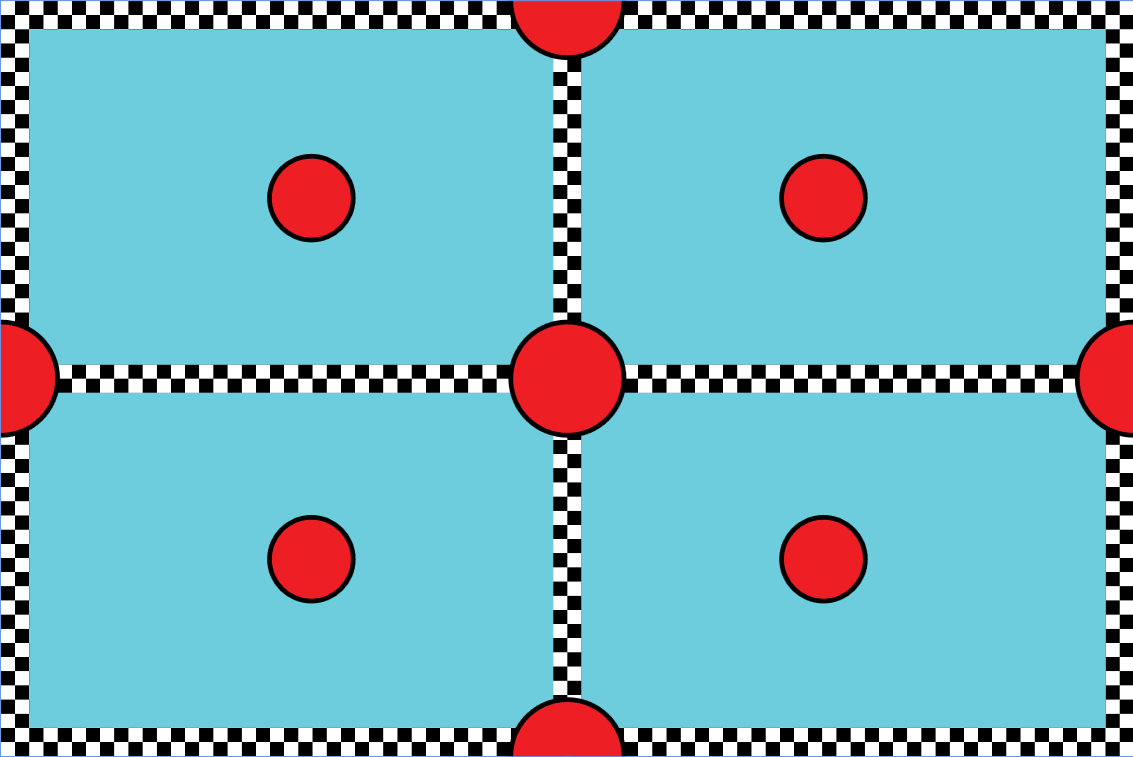 The seaming alignment helper's base graphic
Using the mouse, click-and-drag each camera's feed on the canvas. You can use the arrows in each corner to rotate the camera feed, and the arrows along each edge to resize the feed.
Important note: do not resize the camera feeds more than necessary. If you find they are too small to easily see if they are lined up, use the zoom slider on the toolbar. Scaling the camera feeds up too much can negatively impact performance.
Once you have aligned the cameras, your seaming canvas should look something like this: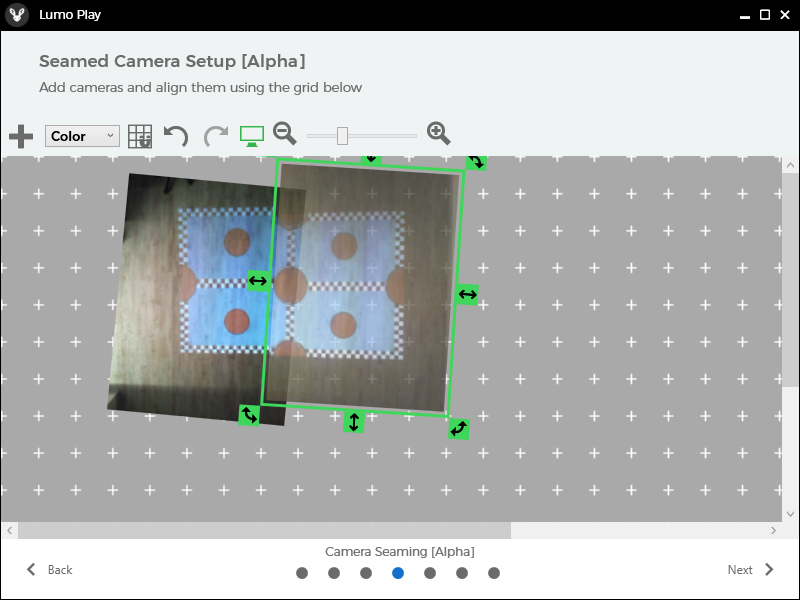 If you are satisfied with the alignment, click the Next button.
5- Masking the Projection Area
Just like any other camera, the next step in calibrating LUMOplay is to mask off the projection area. Use the flip buttons to make sure the circle is in the upper-left corner of the image, and move the blue circles so that they lie on the corners of the projection.
6- Final Tweaks
Use the sliders to fine-tune the detection settings, just as you would with any other 3D sensing camera in LUMOplay.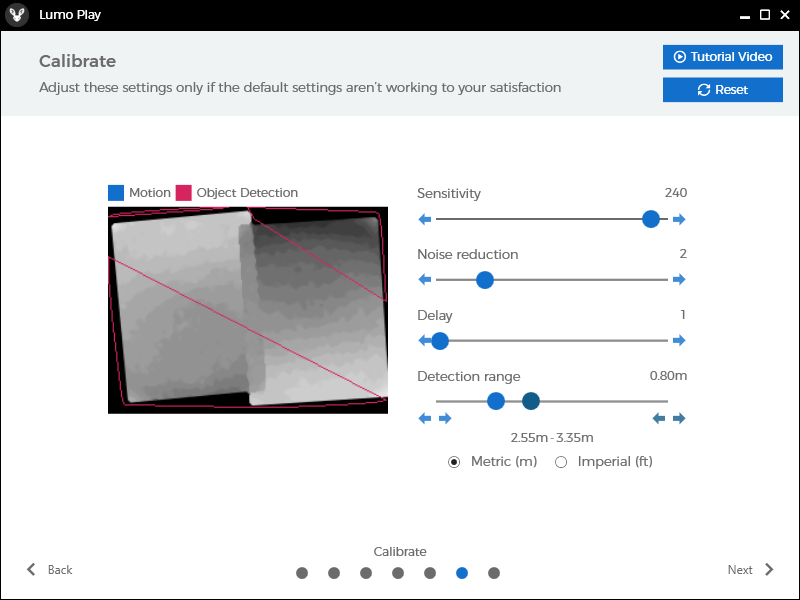 Once everything is working to your satisfaction, click Next to capture the Object Detection reference image, and click Finish.
You have now finished calibrating LUMOplay to use a seamed camera and are ready to play games on your system!