If you want to move LUMOplay from one computer to another, you will need to transfer your license.
Before uninstalling the software on the computer that it is currently installed on, you have to deactivate your license. Deactivating will free up your license and allow you to move your license and install it on a new computer.
1) Launch your LUMOplay software on your computer.
2) Click the Menu drop-down button and select 'Deactivate'.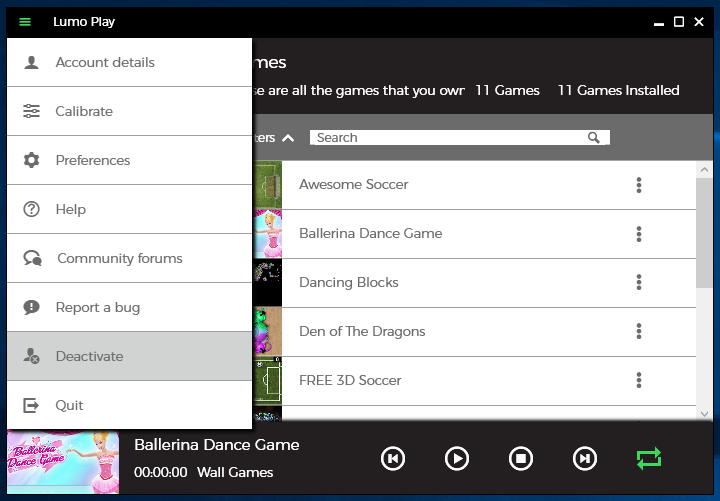 3) Enter your account username and password to deactivate the software.
4) Uninstall the program from your computer.
5) Download, install and register your LUMOplay license on a new computer.
Your system will need to be re-calibrated for the new computer. Click here to review the calibration steps.
Still need help?
If you're unable to deactivate your license on your own due to equipment failure, you may request a license deactivation. Contact Us and select "Deactivate a License" from the drop-down menu. We may ask you send us an additional email from the address associated with your account to verify account ownership.
Please note that for each account, there is a limit of 3 free deactivations, with no more than 1 deactivation per month. You can learn more about our support policy here: https://help.lumoplay.com/hc/en-us/articles/360012906673-Support-Policy