Lumo Play is a high-end software solution for interactive applications including projections, video walls, LED floors, Large format digital signage displays, and touchscreens.
Everything you need to design, deliver and manage exceptional interactive experiences that can easily integrate into complex hardware systems.
Our Website:
On our website, www.lumoplay.com is where you will go to purchase games, purchase software licenses and also where you will go to customize and edit your Motion Maker drafts.    
With the website you can: 
Browse an app market with over a hundred ready to play games and effects 
Customize your own interactive games using your own graphics with our code-free templates and tools (We call these Motion Maker templates)
Compare the features of our two software versions to figure out which is right for you (Lumo Play Personal or Lumo Play Pro)
Browse a versatile choice of supported equipment & hardware to set up your installation however you want. 
Build & schedule playlists for all your installations from any online computer or mobile device (Remote content management system)
Find tons of helpful articles, tutorials, & community forums in our help section.  
Count on us to lend a hand if you ever get stuck. We have amazing customer service.

Our Product:
Our software is what you use to run your games and interactive experiences. Think of it like Windows Media Player or iTunes.  
We have 2 software versions, Lumo Play Personal ($99) and Lumo Play Pro ($599). 
With the Software you can: 
Setup your installation with ease, thanks to our intelligent setup wizard.
Access tons of tutorial videos to help you every step of the way
Choose what you want to listen to by browsing or searching through your games library. 
Build your own playlists made up of a collection of games that you own.* 
Let players control what game to play next by turning on the interactive game gallery menu.*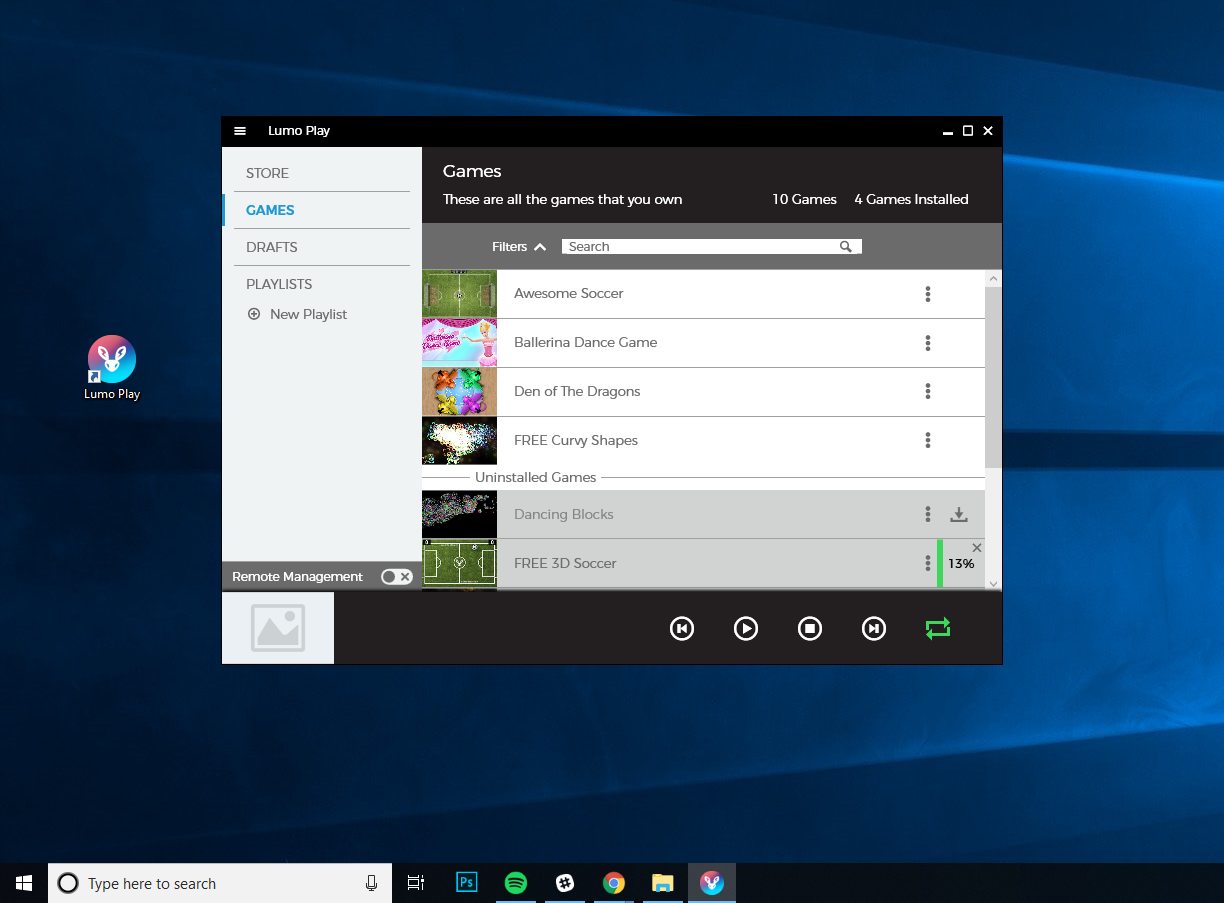 If you're looking for the easiest, most affordable way to create and install custom interactive projection displays in your home or business, Lumo Play is for you!