Please note: Since LUMOplay is a software subscription, we do not provide invoices in advance. Our current pricing is always available on our website.
About us
LUMO Interactive is a small company based in Winnipeg, Canada. It was co-founded in 2010 by Meg Athavale, a mixed-racial, neurodiverse designer, and Curtis Wachs, a Métis programmer with ADD and an amazing collection of cats.
Meg and Curt met while working on a project to support new immigrants in Manitoba. They bonded over beers after work while discussing the underfunding of organizations and schools serving the neurodiverse community, and discovered interactive display technology while projecting weird heads on buildings (for fun, not for profit).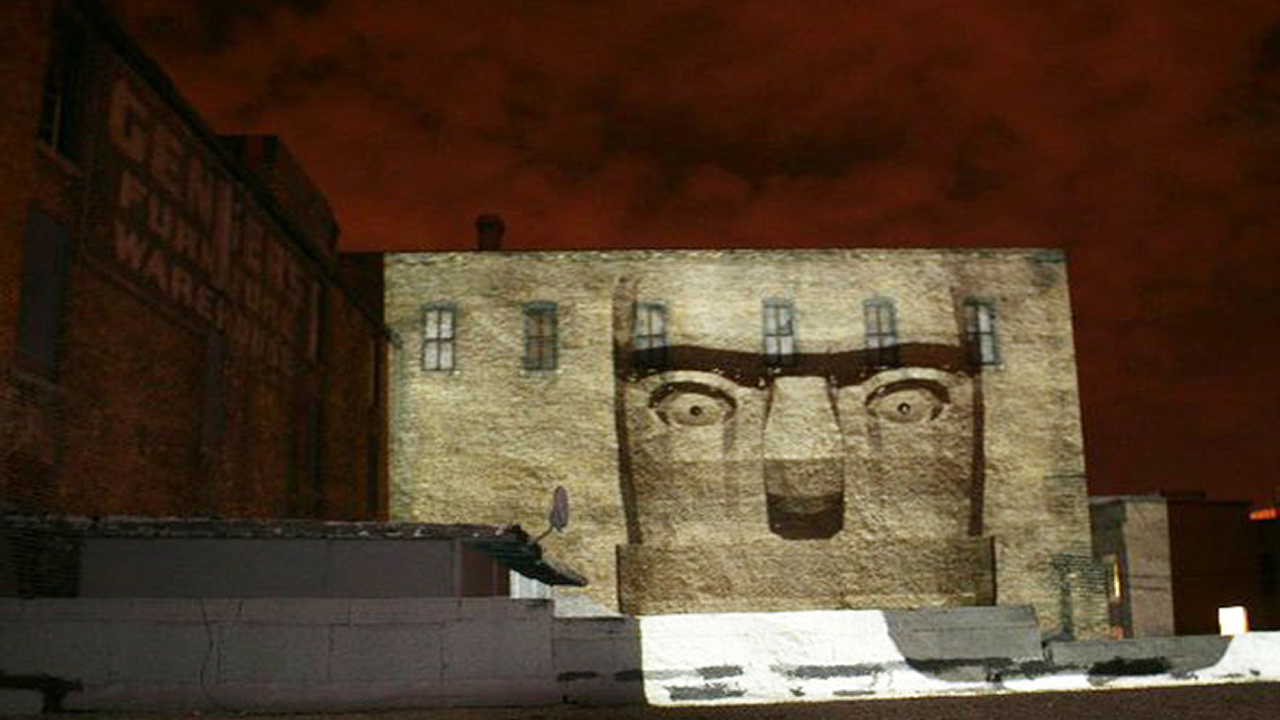 Projected from the roof of our first office, which was an uninsulated cold storage space with a leaky ceiling in an otherwise vacant warehouse.
After playing around with projectors and other visually stimulating technologies, Curt and Meg realized how useful interactive displays could be for educators, and in particular for special needs educators. They decided to create a solution that people like their moms could afford, and LUMOplay was born.
What makes us different?
LUMO is community-driven. We make new apps in response to customer requests. We regularly monitor all of our social media platforms so our community can reach us, and we work hard to stay on top of requests.
We believe in supporting communities. We encourage customers to source equipment, installation, and maintenance services close to home. This is better for the planet, a boost for local economies, and more cost effective for customers.
Software
LUMOplay offers a free version of our software. We know it can be hard to commit to a subscription as part of a grant, so if you don't want to include us in your application, LUMOplay Free is available to get you started.
LUMOplay Free is feature-locked, which means there are some things you'll need to pay to access. Here is a current list of the apps available with LUMOplay Free.
We occasionally run ads for our own new apps and promotions in LUMOplay Free, but we try to keep them to a minimum, and we don't sell ad space or data to other companies.
If you prefer to factor the cost of a paid subscription into your grant application, our subscription pricing is available here.
What if I need help?
We provide free email support to everyone in our community, and remote calibration assistance for $50/session. Sessions take under 1 hour and will include training so you'll know how to calibrate the system if you need to move it in the future. If you want to be sure your system is calibrated correctly, this fee should be included as part of your grant application.
Hardware
If you're looking for one source for all the hardware you need, there are two kits available from SimplyNUC.
The Interactive Floor Display kit is suitable for a classroom or small space (like a sensory room) where the lighting can be controlled. It doesn't have to be completely dark for the system to work, but the projector is small and designed to be easy for a teacher to install, so it's not bright enough for a gym or brightly lit area.
This kit costs $1599 plus shipping and taxes, and can be purchased here.
The Hardware Essentials kit allows you to use any projector, so your overall system can be brighter. You'd need to source your own projector or use one the school already has. This kit costs $999 plus shipping and taxes, and can be purchased here.
If you're planning to submit your grant application at a later date, please use those links to confirm current pricing, as prices may change.
If you'd rather source your hardware locally, here's a handy list you can browse through.
Feel free to send us links to specific products if you want a second opinion on your hardware choices before adding a product as a line item in your grant application.
Legal Stuff
Company address: 354 Marion Street, Winnipeg MB, Canada, R2H 0V3
Tax stuff: We subtract GST from Canadian charges (we don't add it).
Still have questions?
Please contact us! We're happy to do whatever we can to support you.