LUMOplay subscription license keys are only available for bulk orders directly from LUMOplay, or through authorized LUMOplay Resellers. If you want to purchase bulk license keys, contact us.
Getting Started
You will need an internet connection to complete these steps.
When you purchase a LUMOplay kit from an authorized LUMOplay Reseller, you will receive a license key that looks something like this:
lumoplay-0000-lumo-play-0000lumoplay
Keep this code handy, because you will be using it soon!
Personal Settings
Start the LUMOplay desktop application. You will be asked to choose your language.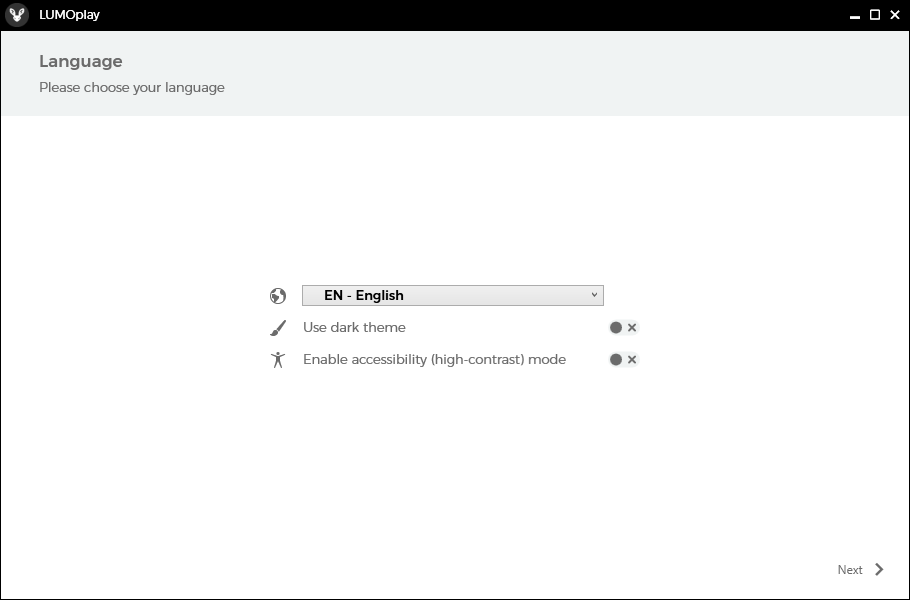 Once you have chosen your language, click the Next button in the bottom right.
You will then be prompted to enter your username and password. Note that this is the same login information that you use for LUMOplay.com.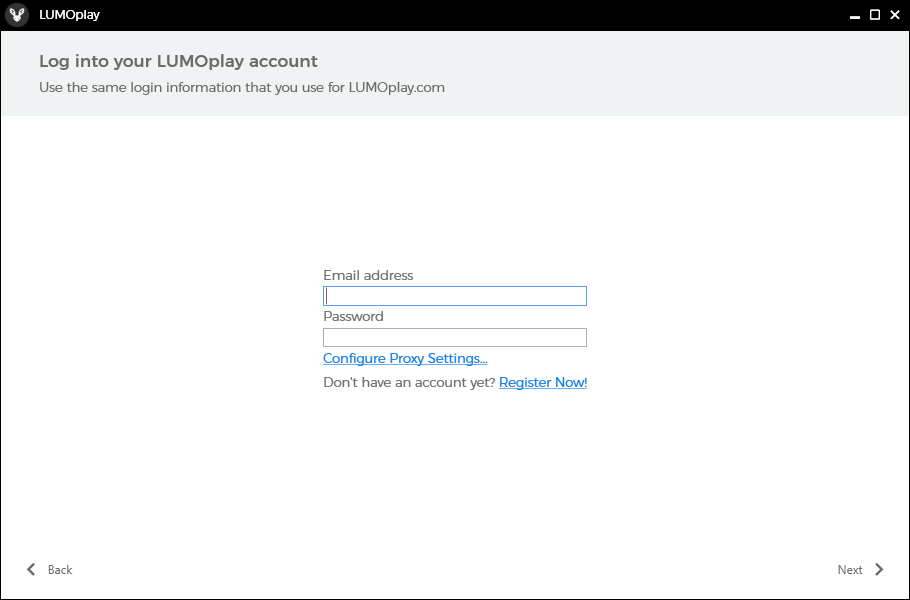 Once you have entered your information, click the Next button in the bottom right.
Activate Your Subscription
After logging in, you will be prompted to select a software version. If this is a new account, you will likely only have the LUMOplay Free version available.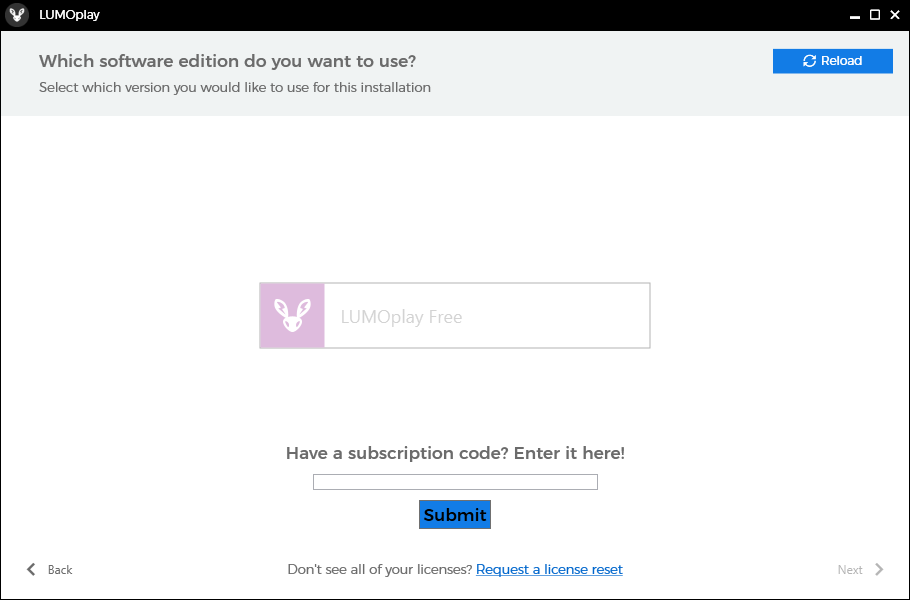 Let's change that. Copy the license key provided with your LUMOplay kit and paste it into the textbox at the bottom.

If you get an error, then you may have missed a character in that long code. Try copying it again, or even typing it out directly into the textbox. Make sure there aren't any extra characters!
Once you have entered your license key, you can click the Submit button. This will credit your account with the subscription you received. If you entered the code correctly, you should now see a new software version option in the list.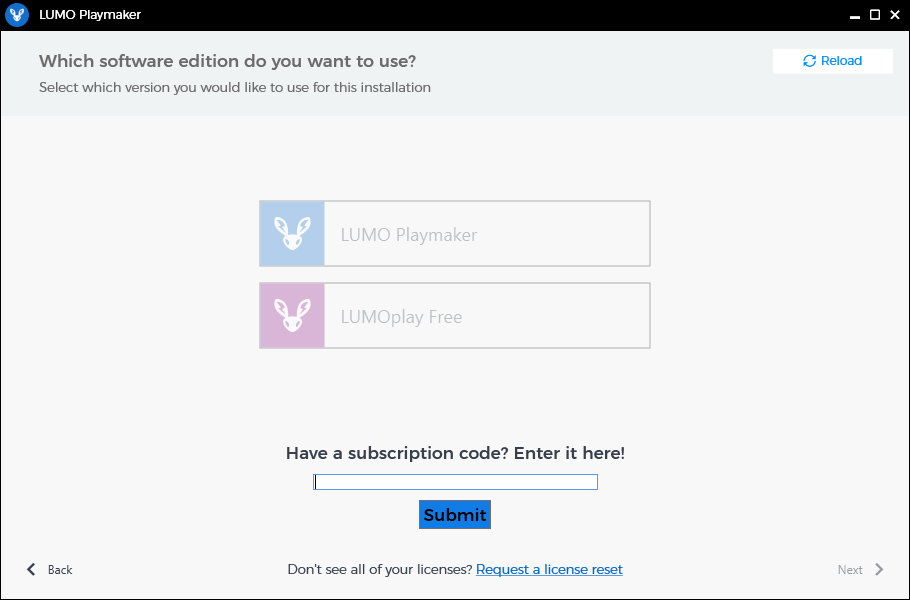 Select Your Version
Now you will need to select your paid software subscription. This will either be PLU Playground or LUMO Playmaker. License keys are pre-paid annual subscriptions. Your annual period will begin as soon as this license is activated.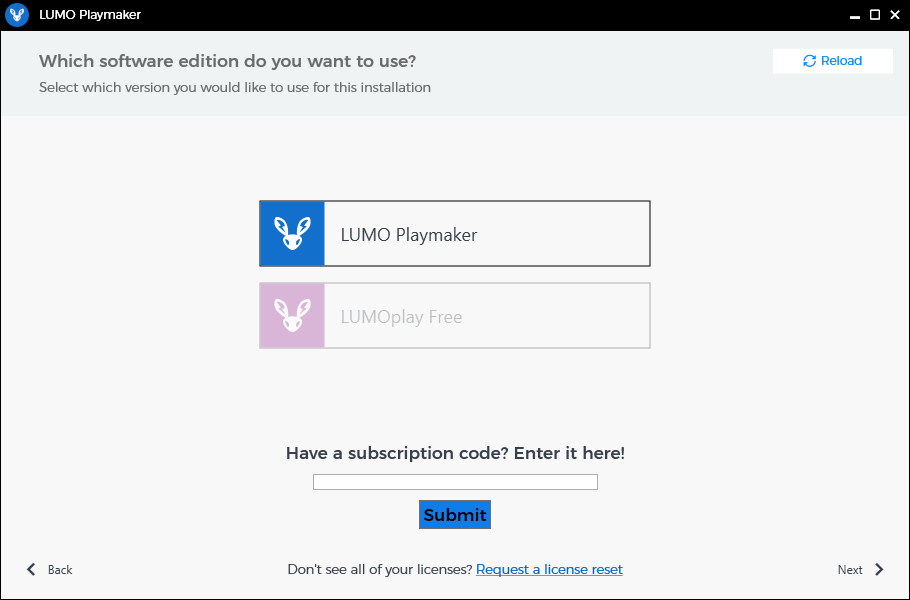 Once selected, the Next button will be enabled. Click Next to finish activating your software.
Provide Billing Details (Optional)
When the annual subscription is expired, your license will downgrade to LUMOplay Free and you can renew your subscription by following these steps. If you wish to avoid a license expiry, you can provide your billing details and authorize automatic payments in your account dashboard.
Complete your Installation
For more information about completing the installation, click here.
Transfer the License
If you accidentally activated this license key on the wrong machine, you can click here to learn more about deactivating licenses.
Need Help?
If you are still having problems with your activation code, please contact us for more information.