Changing your subscription from Playground to Playmaker, adding more licenses, or adjusting your payment term from monthly to annual, can easily be done through your Account Dashboard on the LUMOplay website.
1. Log in and go to your account dashboard
Go to https://www.lumoplay.com/login to log in. When you are logged in, open your account dashboard by clicking your username in the top-right corner of the LUMOplay web page.
2. Locate the Subscription information panel

3. Click the Modify Subscription button
4. Change your subscription
In the Modify Subscription popup, select the desired subscription tier. You can also change from Monthly to Annual subscription payments, or change the number of licenses you have.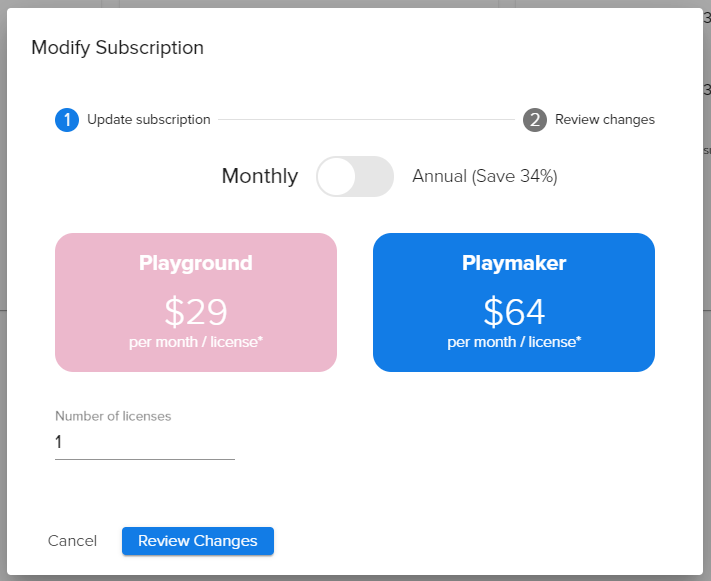 Once selected, click the Review Changes button.
Step 5. Review changes and confirm
The following window will give a rough breakdown of the changes being made to your subscription. If you're upgrading your subscription, it will show your new subscription tier and the updated monthly (or annual) fee. This will be followed by information about the next invoice, which will be billed immediately with the pro-rated amount for the remainder of the current billing cycle.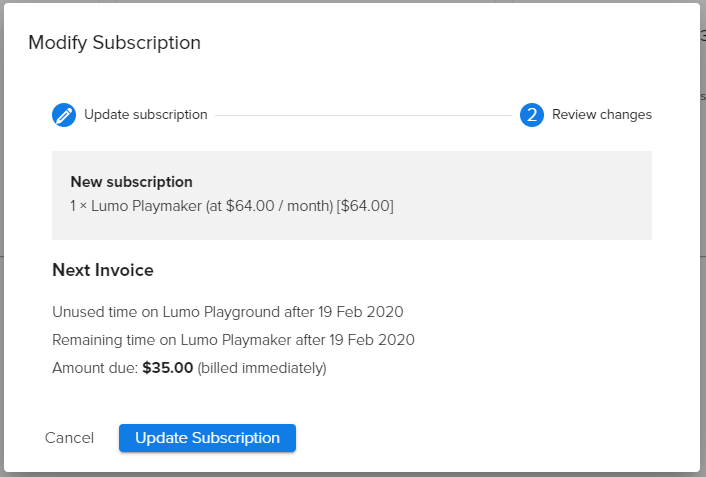 Once you confirm the changes, it may take a moment for the changes to go through.
If your LUMOplay license is already activated, the changes you've made will update your license automatically. This process requires an internet connection, and may take a few minutes to complete the next time you launch your LUMOplay license.
Questions? Contact us!